This is the first post in a string of posts of my travels through Europe this spring, 2023.  I'll be sharing where we stayed, what we did, the best food and how we got to each place. Thanks for reading along! I hope this helps if you're interested in going to any of these travel destinations yourself!
Where we stayed in the Cotswolds: Manor House Hotel in Moreton in Marsh
What to do in the Cotswolds: walk the main strip in Moreton in Marsh, explore Castle Combe, lunch at the Manor House in Castle Combe, explore the Manor House gardens
Favorite food in the Cotswolds: breakfast, lunch and dinner at the Manor House Hotel in Moreton in Marsh, lunch at Manor House in Castle Combe
Day 1 Fly to London
We flew into London on a red-eye. We used London as our starting point because I was able to find the cheapest direct flights from Florida to London. We spent just one day in the city and because we saw most of the major sites on our first visit, we wanted to spend our time just enjoying casually walking around and seeing some sites. (We will be doing the Harry Potter studio tour on the tail end of our trip, the day before we go home, so stay tuned for that!)
I thought I'd go ahead and include in each blog post how we actually got from point A to point B, just in case anyone is interested in the logistical parts of our itinerary. This is something I was really interested in knowing, and could find little information on.
We flew into Gatwick and from there took the Gatwick Express to Victoria Station. Then we hopped on the tube to Picadilly Circus, where our hotel was. I will say, navigating the tube with a lot of luggage was really stressful and I will never do that again. We took Ubers after this because it was just too much to handle.
We stayed at Zedwell Picadilly. It was central to everything we wanted to see, but Piccadilly Circus is a bit annoying to navigate when jet lagged, or just in general. I would not stay here again for that reason, even if we had to take longer Uber rides to get to everything.
We just walked around for a bit, saw Big Ben and the gardens right by Buckingham Palace. We got tea at a cute shop called Linnean and then headed to our hotel to get to bed early. Jet lag definitely hit harder on this trip.
Day 2 Drive to the Cotswolds
Our original plan was to take a train and head from London to the Cotswolds, but the line was down and we did not know that until getting to the station. That was a bit of challenge and made our morning longer than expected. We ended up renting a car and driving instead, which actually worked out better than if we had taken the train. (If you are interest though, there is usually a train that leaves from Paddington Station that goes to Moreton-in-Marsh.)
I had been dreaming of going to the Cotswolds for years and it was everything I hoped it would be and more. We stayed at the lovely Manor House Hotel in Moreton in Marsh. It was the perfect, quintessential Cotswold experience I was hoping for. The hotel is an old manor and decorated in modern yet classic English country style. It was absolutely adorable inside, but the outside courtyard really stole the show. The lawn was the softest, greenest grass ever, and the patio had lush greenery everywhere. We had cappuccinos and delicious homemade shortbread cookies outside upon arrival, and it was so nice to just sit and listen to the song birds flying around and take everything in. The town's beautiful church can be seen from the hotel lawn, and it was magical to hear the bells ring on the hour while walking through the garden. The staff were incredibly kind and made our stay all the better. Coming from London, it was a completely different energy entirely. Everything was slow paced and so relaxing. Much more to my liking.
We ate at the hotel restaurant for dinner both nights of our stay in the Cotswolds and it was superb. The dinning room looks like a greenhouse from the outside and just adds to the hotels overall charming aesthetic. The filet and peppercorn sauce was *chef's kiss*. A lovely breakfast spread was included with our stay and was such a perfect way to start our days. I absolutely loved our stay here.
Day 3 Explore Castle Combe
Because we rented a car, we were able to drive through the countryside and see more of the beautiful towns that make up the Cotswolds. From Moreton-in-Marsh we drove an hour and a half to Castle Combe, which is just a fairytale in real life. Every inch of the town was stunning, with honeycomb colored houses, the cutest bridge over a little river, and the stately Manor House towards the end of town.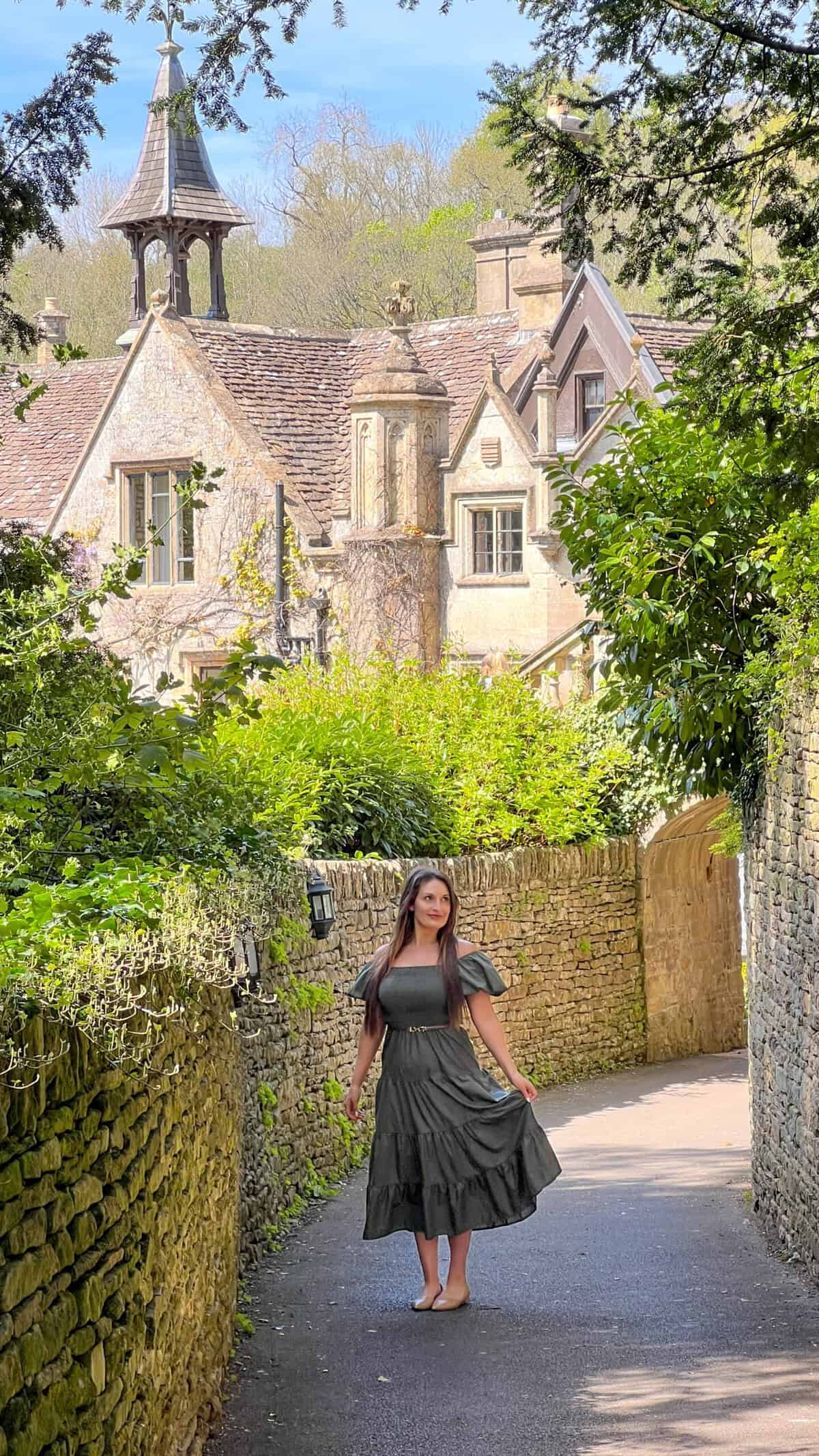 We explored the town and then headed to the Manor House for lunch which was just so elegant. We enjoyed lunch and coffee inside a little drawing room that overlooked the front entrance of the manor. After lunch we explored the grounds, which were just breathtaking. The gardens were full of beautiful stone structures, tall hedges, colorful flowers and little stone walking paths. What a lovely place. We headed back to Moreton-in-Marsh from there, had dinner at our hotel and turned in early for the night, to get ready to leave for Paris in the morning!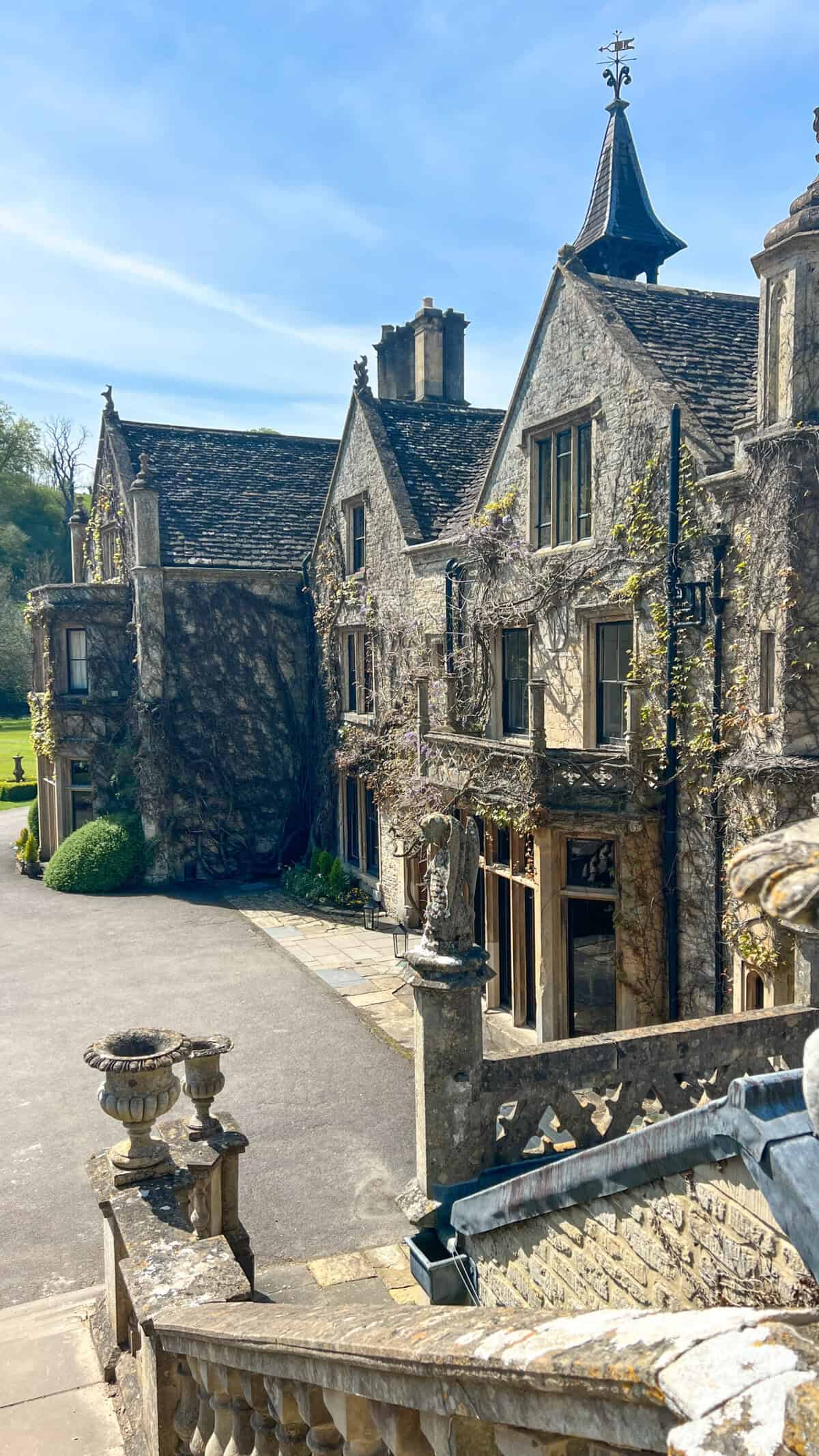 Tying it All Together
Overall, the Cotswolds were amazing and I would definitely return to see more of the towns and sites. It's a perfect place to visit if you're interested in slow paced living, beautiful scenery and quaint little towns. I would highly recommend a stay at the Manor House Hotel in Morton-in-Marsh, but the Manor House in Castle Combe was lovely as well. I think renting a car is essential to seeing the Cotswolds properly, and I would do that again when we return. One thing to note: if you are driving through the center of London to pick up or drop off a rental, you do have to pay a congestion charge, which was 15 pounds at the time of our visit. I hope this post is helpful if you are thinking of taking a quick trip to the Cotswolds from London!