These are the best pistachio cookies! They are thick and chewy, loaded with pistachio flavor and dark chocolate chunks. If you're a fan of pistachios you will absolutely love these cookies!
These cookies are a a twist on my best chocolate chip cookie recipe. Pistachios are finely ground and added into the batter for the best nutty pistachio flavor, then the dough is loaded with chocolate chunks and chopped pistachios. They get sprinkled with flaky sea salt after baking for a finishing touch. I can't even describe how good the flavor of these cookies is! They also have a slight natural green color so they would be great cookies to bake for St. Patrick's Day or the Christmas season!
Try some of my other favorite cookie recipes: pumpkin cheesecake cookies, Harry Potter butterbeer cookies, classic chocolate chip cookies, chocolate caramel cookies or chocolate thumbprint cookies!
Why You'll Love this Dark Chocolate Chunk Pistachio Cookie Recipe
They're full of chocolate chunks and pistachios- Each bite is loaded with chocolate and pistachio goodness!
They have the best flavor- They're salty, sweet and nutty. There's also no artificial pistachio flavor because we're using real pistachios and not instant pistachio pudding mix.
They're have the best texture- These are thick and chewy cookies!
Ingredients for Chewy Pistachio Cookies
Flour- all purpose flour gives these cookies the best chew
Baking Powder & Baking Soda- help the cookies to rise slightly
Salt- helps bring out all the flavors in these cookies
Sugar- mostly brown sugar is used for the best, chewy texture
Butter- I love using salted butter in these cookies but you can also use unsalted butter
Dark Chocolate Bars- I recommend using using 60% dark chocolate bars
Egg Yolks- just the yolks give these cookies an extra chewy texture
Vanilla Extract- adds a sweet note to the cookies
Pistachios- will be ground and chopped to give the cookies the best pistachio flavor
Flaky Sea Salt- for topping the cookies with
Step by Step Instructions
Please see recipe card below for the complete instructions including baking time and measurements!
STEP ONE: Add the pistachios to a food processor and pulse until very finely ground and almost a nut butter consistency. Set aside.
STEP TWO: In a medium bowl, whisk the flour, baking powder, baking soda and salt together. Then set aside the flour mixture.
STEP THREE: In a large bowl, cream the butter, brown sugar and granulated white sugar together with an electric hand mixer on high speed until light and fluffy, 2-3 minutes. (You can also use the bowl of a stand mixer fit with a paddle attachment if you would rather.)
STEP FOUR: Add in the egg yolks, vanilla extract and ground pistachios and mix on medium speed until pale in color and fluffy, 1-2 minutes. (Scrape the sides of the bowl as necessary.)
STEP FIVE: Add the dry ingredients to the wet ingredients and mix on low speed just until combined.
STEP SIX: Mix the chopped dark chocolate and chopped pistachios into the dough with a rubber spatula.
STEP SEVEN: Scoop the dough with a large, 2 tablespoon capacity cookie scoop. Arrange the cookie dough balls 2 inches apart on a parchment paper lined, large baking sheet and bake for 10-12 minutes. (10 minutes gives you super chewy, soft cookies, and 12 will give you crispier cookies.)
STEP STEP EIGHT: After baking let the cookies cool on the cookie sheet for five minutes then transfer them to a wire rack to completely cool. When the cookies are straight out of the oven, scoot a large circular cookie cutter around them to give them a perfect circular shape. While they're cooling, add extra chocolate chunks, chopped pistachios and flaky sea salt on top of each cookie.
FAQs
How do I store these cookies? Store leftovers in an airtight container or freezer bag for up to four days. You can also freeze them for up to two weeks.
What pistachios are best for baking? I personally love to use roasted and salted pistachios for this recipe. I buy the de-shelled ones for convenience!
What kind of chocolate is best to use? I love to use 60% dark chocolate bars. For a richer cookie you could use 75% or darker chocolate if you wish!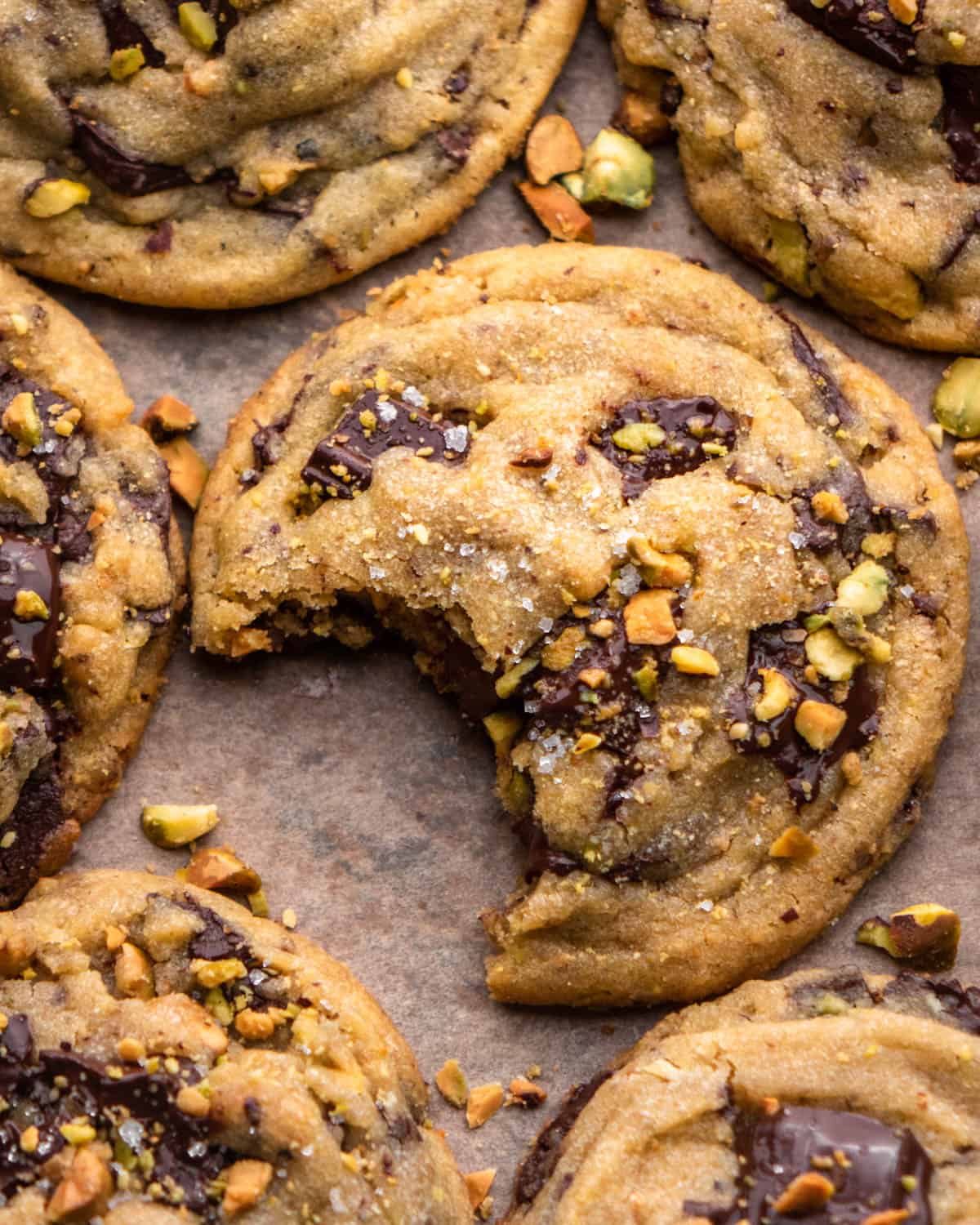 Pro Tips
Measure your flour properly. This is always my #1 baking tip. Do not ever scoop a measuring cup into your flour. This will always lead to using too much flour. Instead, scoop spoonfuls of flour into your measuring cup and swipe excess flour off with the back of a knife. Or better yet, weigh your flour with a kitchen scale. 1 cup of flour equals 125 grams.
When the cookies are straight out of the oven, scoot a large circular cookie cutter around them in a circular motion. This will give the cookies a perfect circular shape!
Make sure your egg yolks and butter are at room temperature. This will help to give you the best textured cookies!
If you make these cookies please leave a star review, it's so helpful for me! Tag me on Instagram @inbloombakery_ so I can see as well! Follow me on Pinterest for other dessert ideas!
Other Cookie Recipes to Try Next Time
White Chocolate Macadamia Nut Cookies
📖 Recipe
Pistachio Cookies
These are the best pistachio cookies! They are thick and chewy, loaded with pistachio flavor and dark chocolate chunks.
Ingredients
½

cup

(70 g) pistachios

1 ¾

cups

(219 g) all-purpose flour, spooned and leveled

½

teaspoon

baking powder

½

teaspoon

baking soda

½

teaspoon

salt

¾

cup

(168 g) salted butter, softened

¾

cup

(165 g) light brown sugar

¼

cup

(50 g) granulated white sugar

2

egg yolks, at room temperature

1

tablespoon

vanilla extract

6

oz

(170 g) dark chocolate bars, chopped 

60% cacao

½

cup

(70 g) pistachios, roughly chopped

flaky sea salt, extra chopped chocolate and extra chopped pistachios for sprinkling on top of cookies
Instructions
Preheat the oven to 350 degrees. Line two baking sheets with parchment paper and set aside.

Add the pistachios to a food processor and pulse until very finely ground and almost a nut butter consistency. Set aside.

In a medium bowl, whisk the flour, baking powder, baking soda and salt together. Then set aside the flour mixture.

1 ¾ cups (219 g) all-purpose flour, spooned and leveled,

½ teaspoon baking powder,

½ teaspoon baking soda,

½ teaspoon salt

In a large bowl, cream the butter, brown sugar and granulated white sugar together with an electric hand mixer on high speed until light and fluffy, 2-3 minutes. (You can also use the bowl of a stand mixer fit with a paddle attachment if you would rather.)

¾ cup (168 g) salted butter, softened,

¾ cup (165 g) light brown sugar,

¼ cup (50 g) granulated white sugar

Add in the egg yolks, vanilla extract and ground pistachios and mix on medium speed until pale in color and fluffy, 1-2 minutes. (Scrape the sides of the bowl as necessary.)

2 egg yolks, at room temperature,

1 tablespoon vanilla extract

Add the dry ingredients to the wet ingredients and mix on low speed just until combined.

Mix the chopped dark chocolate and chopped pistachios into the dough with a rubber spatula.

6 oz (170 g) dark chocolate bars, chopped ,

½ cup (70 g) pistachios, roughly chopped

Scoop the dough with a large, 2 tablespoon capacity cookie scoop. Arrange the cookie dough balls 2 inches apart on a prepared baking sheet.

Bake the cookies for 10-12 minutes. (10 minutes gives you super chewy, soft cookies, and 12 will give you crispier cookies.)

After baking let the cookies cool on the cookie sheet for five minutes then transfer them to a wire rack to completely cool.

When the cookies are straight out of the oven, scoot a large circular cookie cutter around them to give them a perfect circular shape. While they're cooling, add extra chocolate chunks, chopped pistachios and flaky sea salt on top of each cookie.

flaky sea salt, extra chopped chocolate and extra chopped pistachios for sprinkling on top of cookies